Golf in the Algarve
The Algarve is also called the Golfer's paradise as there are more than 35 different courses, each with its own par, speciality and charm. Of course, there are the famous resorts Quinta do Lago and Vale do Lobo in the central part of the Algarve, also called the Golden Triangle. But in the direct neighbourhood of your apartment are many good and well-liked courses as well. Golf in the Algarve, courses with a more acceptable fee and good start-times and the most beautiful fairways. Also, a golf membership on these courses is not too expensive. And what about a delicious lunch or dinner in one of the clubhouses? Closest to our apartment with swimming pool is the Penina Golf Course or the Morgado de Reguengo Golf resort.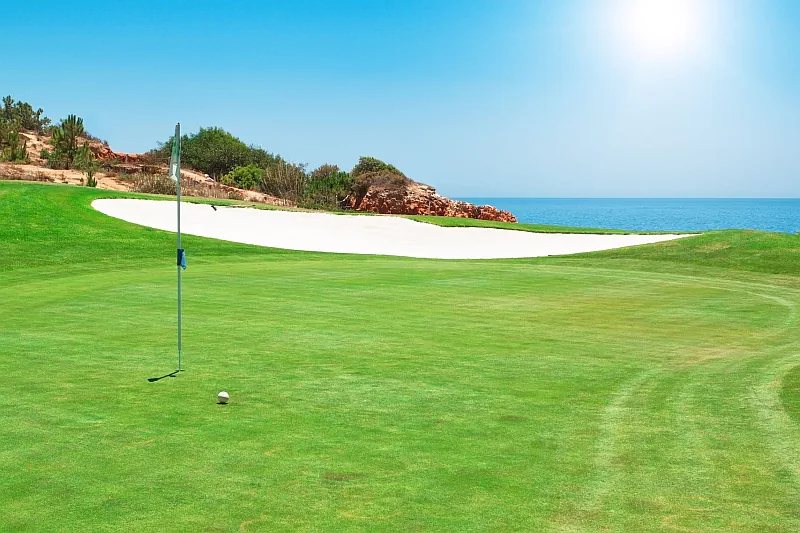 Golf in the Algarve.
To complete the list of options, here are a number of golf courses in the Algarve: Quinta do Lago North, Quinta do Lago South, Vale do Lobo Royal Course, Vale do Lobo Ocean Course, San Lorenzo, Pinheiros Altos Laranjal, Colina Verde, Benamor Golf, Quinta da Ria, Quinta da Cima, Monte Rei, Castro Marim, Quinta do Vale, Parque da Floresta Boavista, Penina.
And don't forget Pestana Alto Golf, Golfe do Morgado, Alamos Golf Pestana, Vale da Pinta, Gramacho Pestana, Pestana Silves, Vale do Milho, Oceânico Faldo Course, Oceânico O'Connor Jnr., Salgados Golf, Balaia Albufeira, Pine Cliffs Golf Course, Oceânico Laguna Course, Oceânico Millennium, Oceânico Victoria, Oceânico Old Course, Pinhal Golf Oceânico and Vila Sol.
With either 9- 18- or 27 holes courses in the great Algarve with sunshine and impressive surroundings.  Quickly book your Golf accomodation.