Beaches in the Algarve
Beaches in the Algarve. The nearest beach is also one of the largest sandy beaches in the Algarve. The beach was created some 20 years ago by constructing a long dam in the Ocean and the mouth of the river Arade. The name of the sandy beach is Praia da Rocha and lies at the foot of a fairly recently built holiday "village" with many flats and hotels. Praia da Rocha is the entertainment centre of the city of Portimao. The boulevard is very pleasant with lots of shops, terraces and restaurants. There is even a casino where you can try your luck.
Praia da Rocha beach is an artificial beach, made by building a very long breakwater at the mouth of the river Arade, on which the port city of Portimao is located. This changed the influences of ebb and flow. This allowed the deposited sand to remain and created the beaches Praia da Rocha and Praia dos Très Castelos.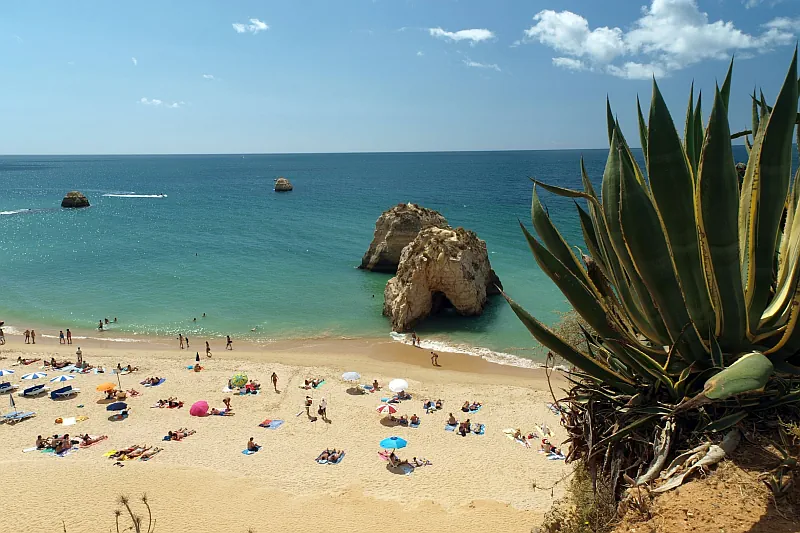 Further west are Praia do Vau. Praia do Alemao, Praia dos Tres Irmaos and, of course, the famous beach of Alvor. To the East, you can visit Praia Grande of Ferragudo. This is the beach you overlook from your balcony. There is also Praia do Pintadinho and Praia dos Caneiros where you can have an excellent lunch or dinner on the beach. It is advised to make reservations.