Sailing trips Algarve
From the beautiful city of Portimão, there are many opportunities to seek adventure and use one of the many types of boats that are available. Sailing trips Algarve, an adventure time and again.
For example, you can go up the river Arade to the city of Silves, take a day trip with a BBQ. And enjoy swimming and sunbathing on beautiful secluded beaches or, for example, rent a sailing boat.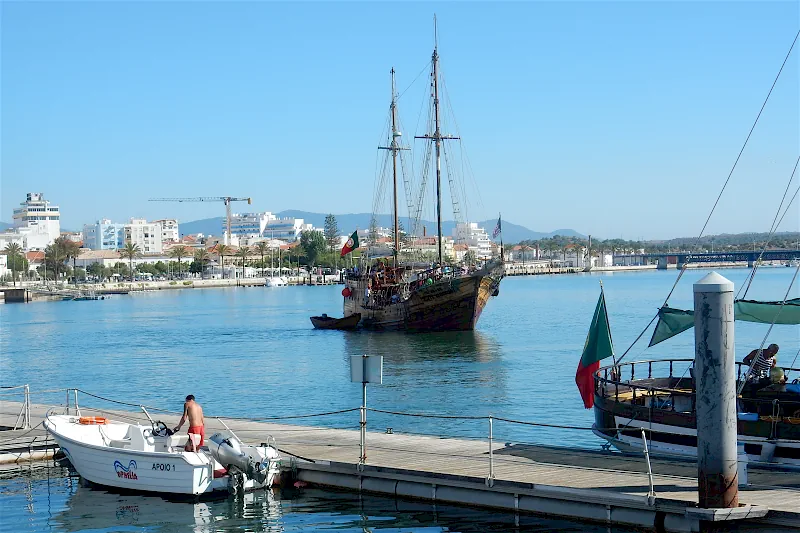 One of the companies that can help and advise you with this is Algarve Ocean, of which we have placed a part of their website below:
Sailing area
From Marina de Portimao we cover an unprecedented versatile sailing area. From raging ocean swells and dolphins at Sagres to the ever-lapping waters of the River Arade. Its's all within 1 day's reach. Ideal for sea fishing in the Algarve. Or big game fishing on the Atlantic.
The river is navigable to the middle of the city of Portimao. It offers sheltered water in all circumstances where it is good to play with currents. A good place to learn about boat and sail handling. The wide and deep estuary offers a safe approach to the port at all times.
3 miles to the west in the sheltered bay of Lagos is the delta of Alvor. Alvor feels like the Wadden Sea, with tidal flats and an intense diversity of bird life.
Sailing trips Algarve
Another 2 miles further west and we have the choice between calling into the port of Lagos or visiting the beautiful rock formations of Piedade.
In the summer, every mile in a westerly direction increases the wind. For a true ocean experience, we leave Lagos Bay and sail in about 2 hours to Cape St. Vincent near Sagres. At this southwest point of Europe, it is always windy, usually very strong. The chance of encountering dolphins is high.
Within a few hours sailing to the east we have the ports of Albufeira and Vilamoura within reach. A little further on we have the grand delta of Faro, where anchoring off the fishing island of Culatra transports you to somewhere in South America.
Trips for more than 1 day.
For our multi-day trips, we have Cadiz, Gibraltar, Tangier, Madeira and Lisbon as destinations.